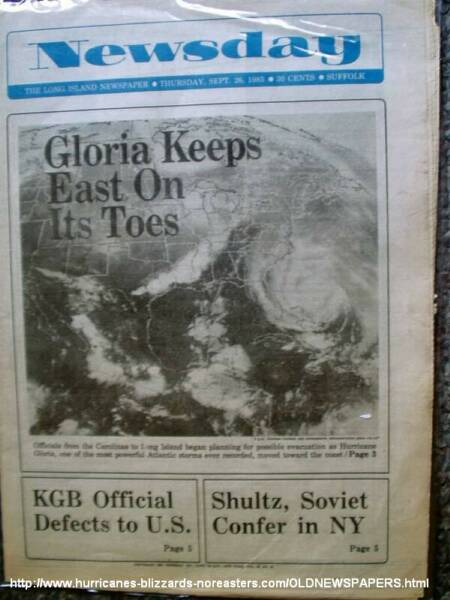 It was 1985, less than a month before my ninth birthday. We weren't very close to my grandmother who didn't really raise my mother at that time, but she was still the only Gloria I knew. I wondered what it was like to have a song sung about you
and
have a really big storm named after you. It seemed exotic, dangerous and showy. I didn't understand these things, but imagined this somehow exemplified the woman I didn't truly know.
As the storm came closer, our emergency plan became more of an event:
"We'll watch movies in the basement!" covered my mother's fear of us being near the windows.
"You can bring down all of the snack food you want with you! Make sure you bring drinks too! We're camping out!" was her nice way of saying upstairs will be off limits.
"Let's bring flashlights and candles. We can keep the lights off for the movie!" Another great plan to make sure losing power would not be overly dramatic for her young children.
With all of this caution, there was also an excited energy in the air. Mom loved storms. I understood why when we watched a lightning storm in the Florida Keys during one vacation. Storms were dangerous, but they could also be quite beautiful. We watched our movie, distracted from Gloria, but what we didn't realize is that Mom was waiting. Mom was
watching
.
Seemingly out of no where, "The eye of the storm should be overhead now! Let's go see!" she was almost childlike in her glee. We didn't know what was coming, but based on her tone, is was bound to be good.
As we emerged from our darkened basement we were fascinated by the deep gray sky framed in our front windows. Mom practically skipped to the front door and opened it.
"Nicole, are you ready?" she was smiling wildly.
Wrapped up in her excitement, I smiled back, "For what?"
"I have an idea for an adventure. People must be going crazy stuck in their houses all day, do you want to go see them your candy bars?"
I looked over her shoulder, out the window. I never saw the world look that color. I never experienced such stillness in our suburban neighborhood. I could think of
nothing
more exciting than getting out there and
feeling it.
"Really?"
"Only a couple of houses. Only where I can see you. The neighbors will love it!"
This picture alone make me drool. I LOVE these.
And that was it - raincoat was adorned (with awesome hood, of course), World's Finest school fundraising candy box was grabbed and I ran! I don't remember who's house I went to first, but I remember the smiles, the laughs, and the rolled eyes. I remember the, "Is your mother crazy?" questions and the family's gathered around the various doors as they shared their own, "Can you believe this?" or, "Isn't she so funny?" I would always give Mom the credit and point back to her and my little brother standing in our front door, watching my every move and exchanging happy waves with the bemused neighbors.
It was pretty successful, although I didn't get to too many houses before I heard, "OK! Just one more," with a slight tone of worry.
Almost everyone bought multiple candy bars (you can imagine the ruckus I created in the homes with other kids on Mother Nature's house arrest!). I
ran
home elated. I made people happy. Even as a child, I knew there was no greater high. We all laughed as I shared my experience, telling Mom, Dad and my brother about the shock on people's faces, the children who begged for more candy, and the people who were so happy just to see chocolate!
Hurricane Gloria was scary for all of us, but that little adventure in the eye is one of my great memories of my childhood. It is analogous to so much of the life we lived in this house - storms were always swirling around us, tragedy laying wait, but somewhere, usually right in the middle of it all, my family would gather, bunker down
together
and share joy with the few we could touch.
I know storms can be dangerous. I know they can be scary, but I know, too, that inside every storm is a beauty waiting to be discovered.
To everyone on the East Coast awaiting Hurricane Irene (strangely, the name of my great-grandmother) be safe this weekend!
Embrace only happy, silly adventures and make sure someone is always watching your back!